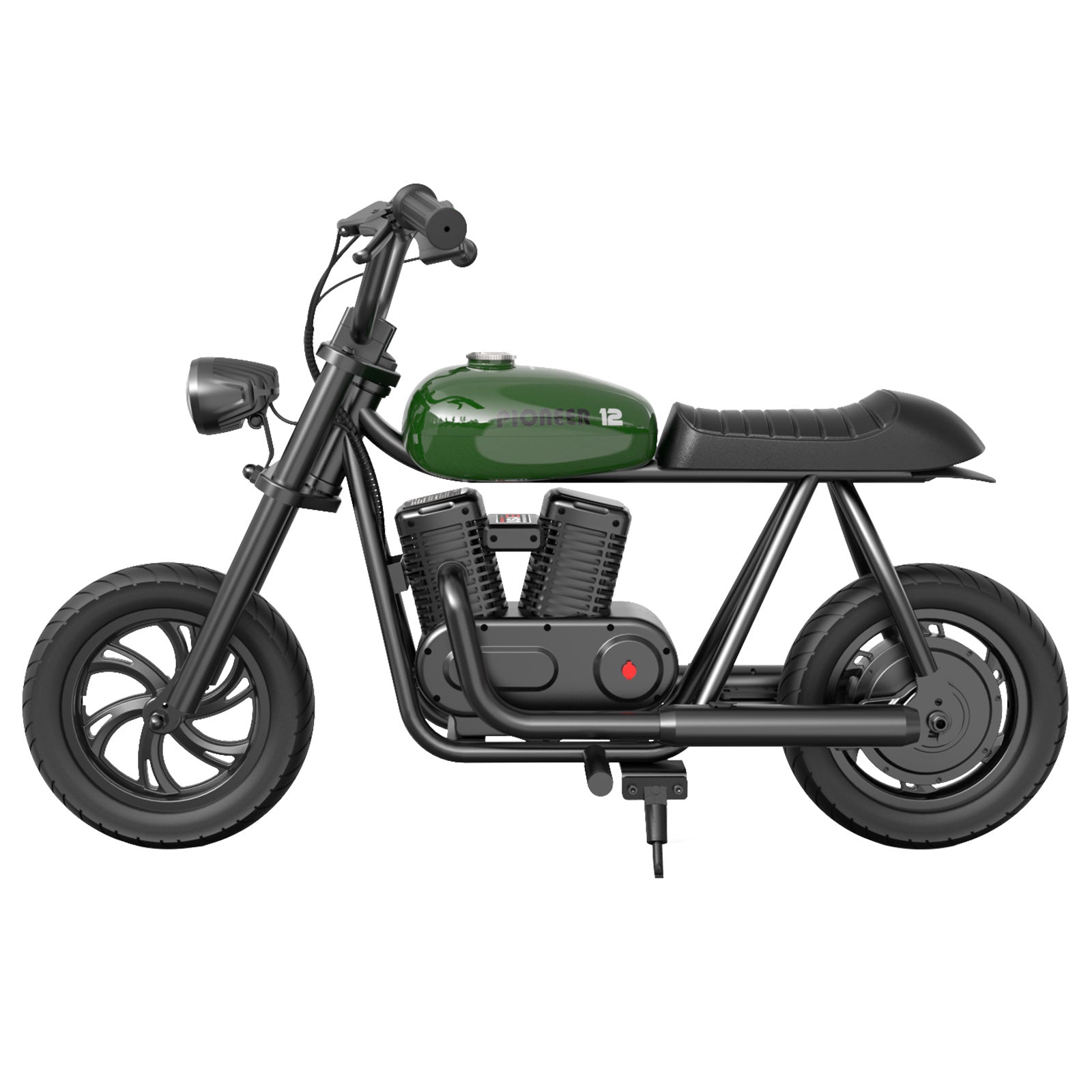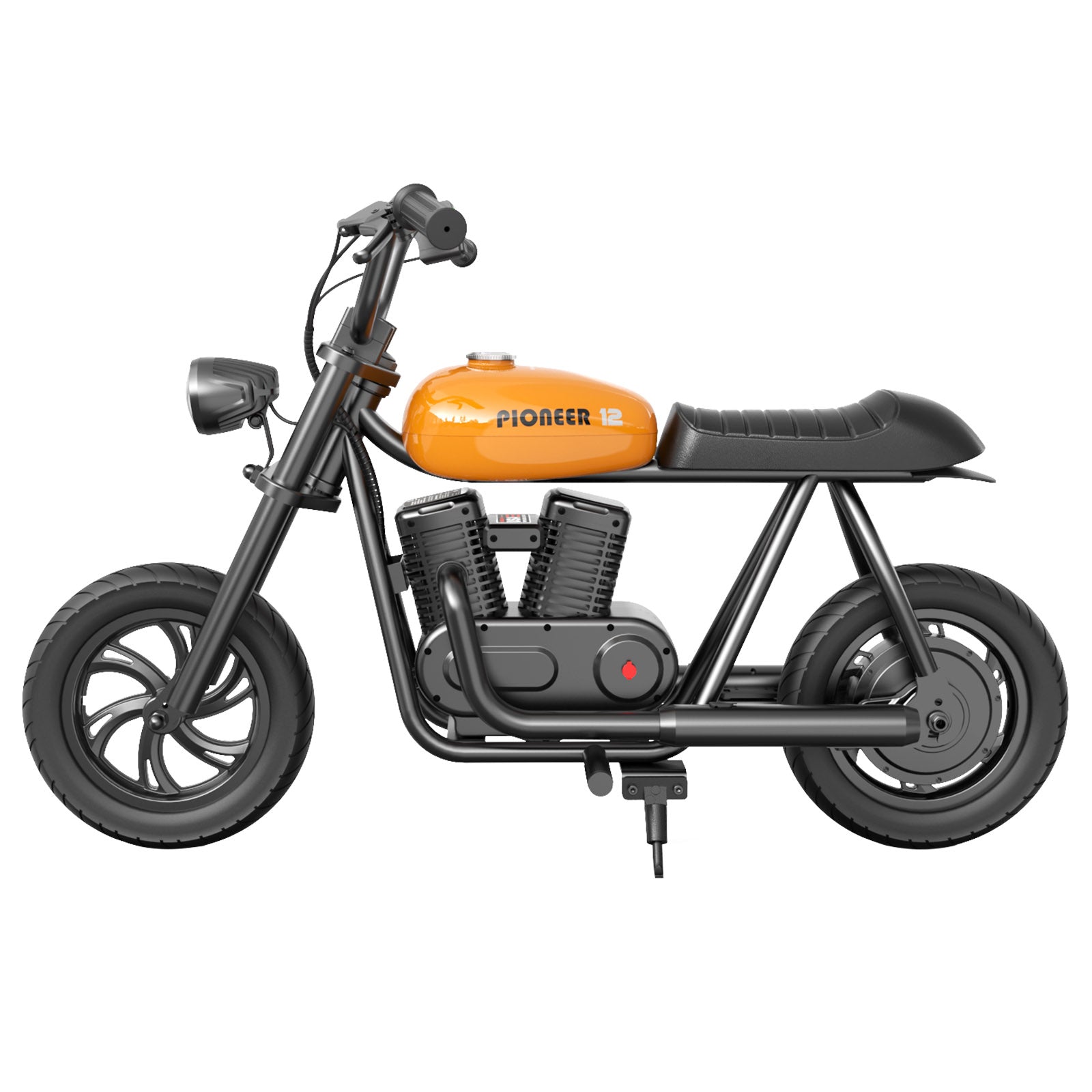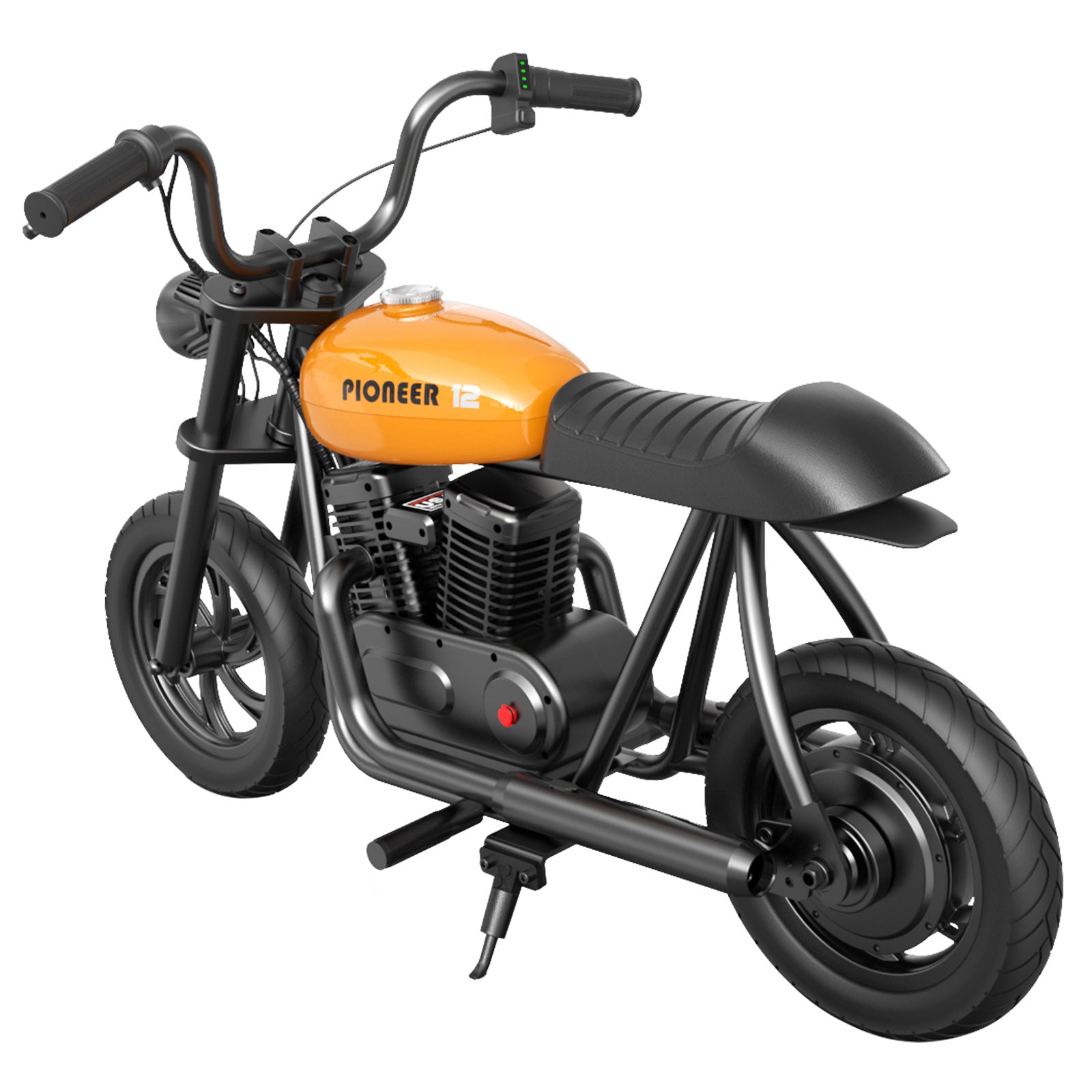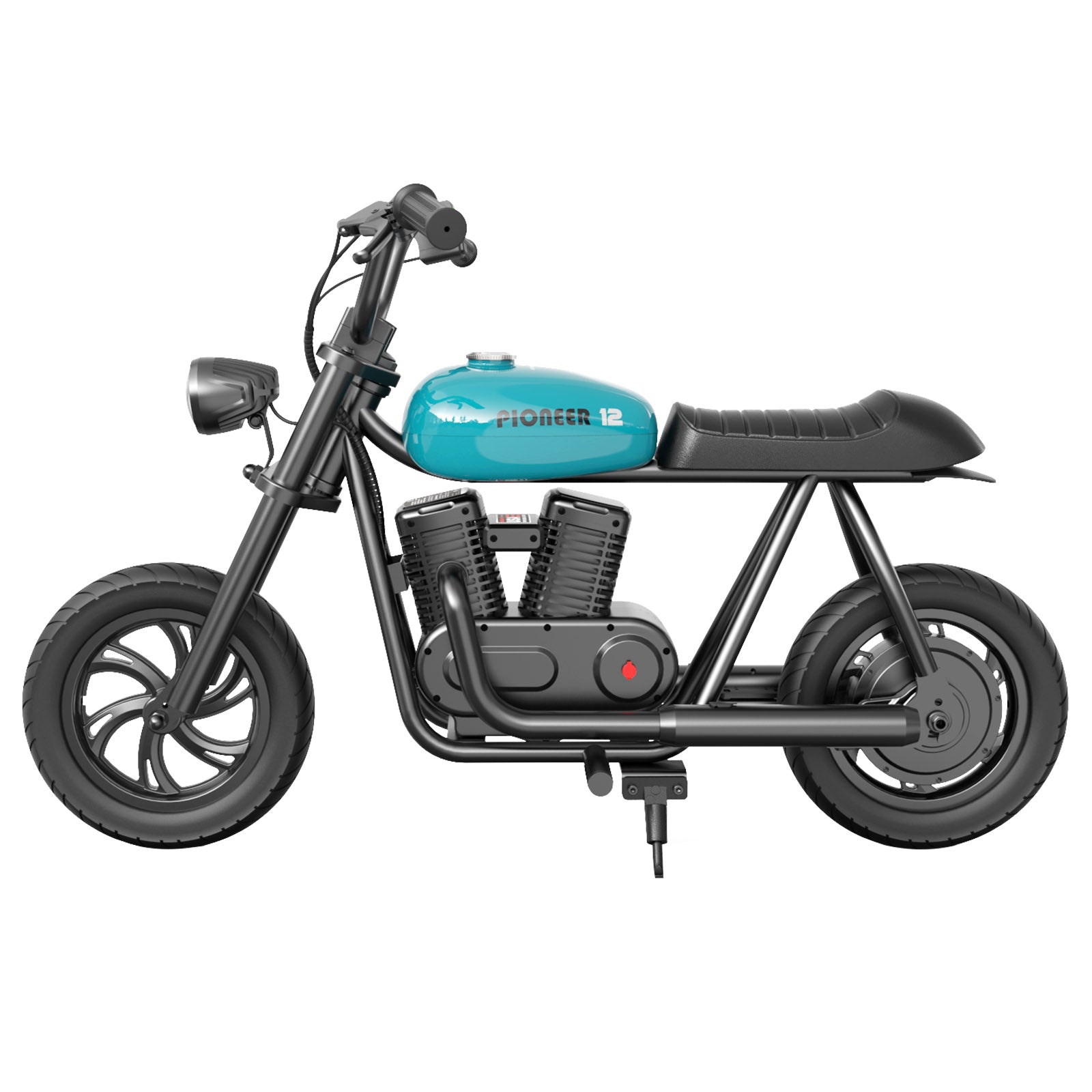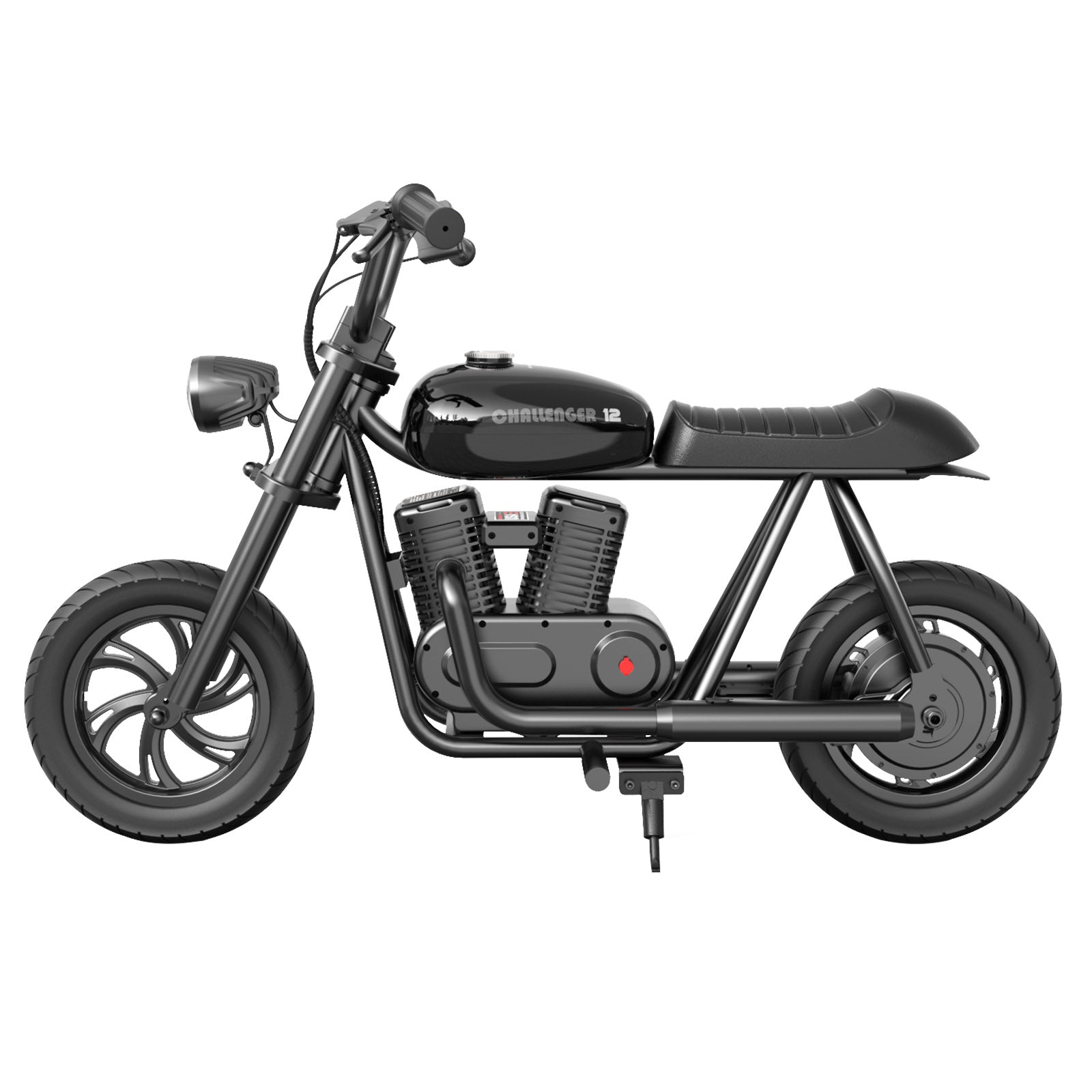 HYPER GOGO Pioneer 12
---
Realistic & Attractive Chopper Motorcycle
Enhanced Safety Design
Long Range and Variable Speed for More Fun
Adjustable Handlebar
Perfect Gift for Your Kids
Enjoyable Indoor and Outdoor Riding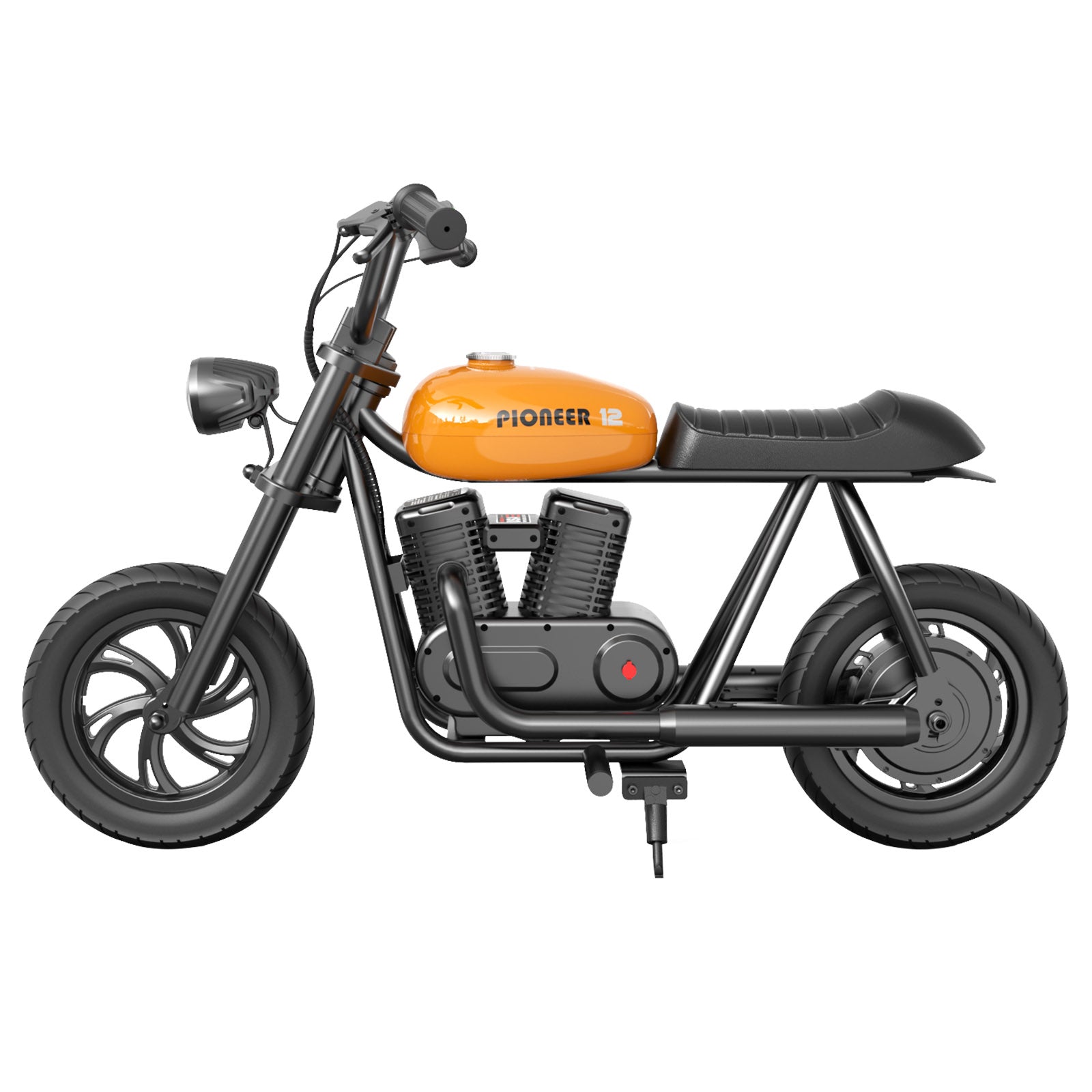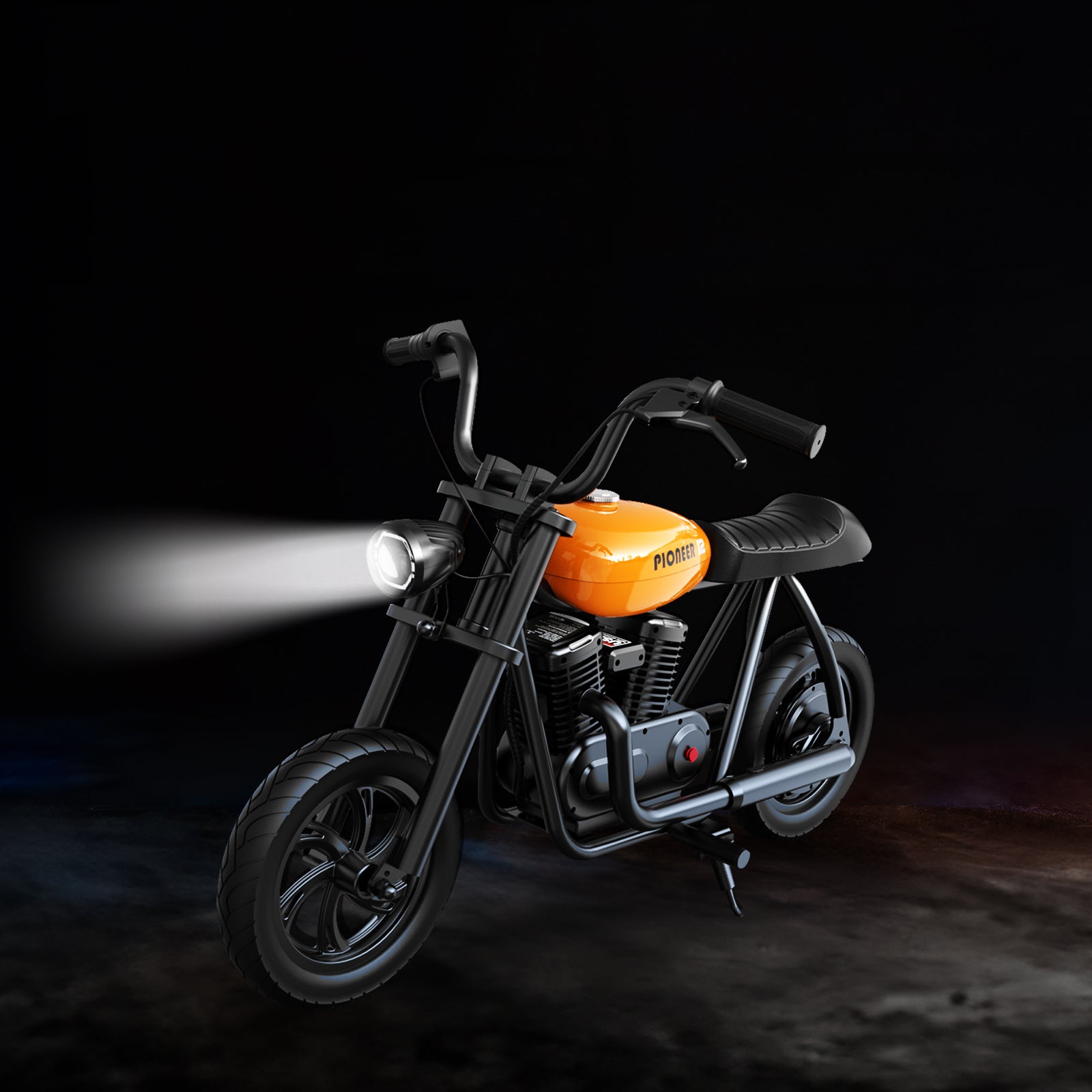 Pioneer 12
Electric Chopper Motorcycle for Kids
Realistic Motorcycle Design: Kids Approve!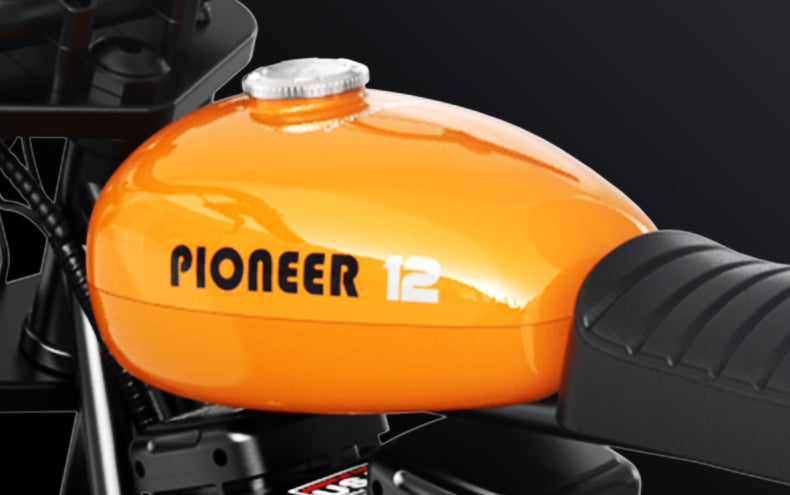 Simulated Fuel Tank Design
The Pioneer 12 features an ingenious fuel tank design that lets your child store belongings while riding, enhancing both style and practicality.
Bright Headlight
The Pioneer 12 has a bright headlight that illuminates the road, amplifies the adventure, and makes every ride captivating.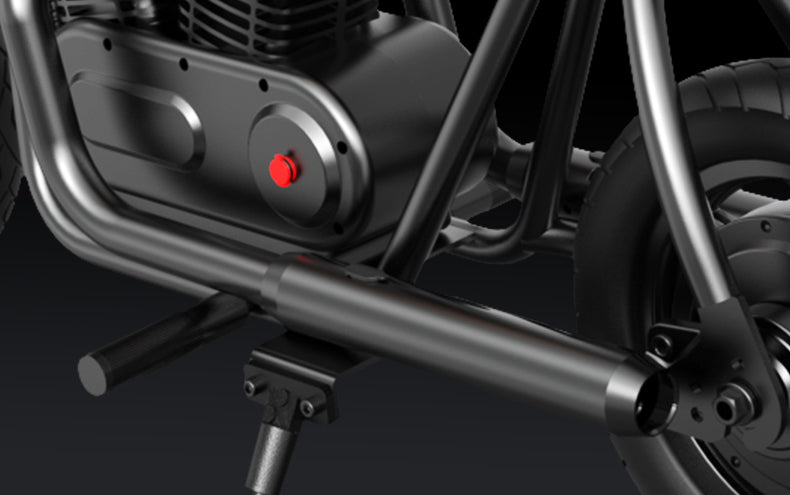 Simulated Exhaust Pipe
The Pioneer 12's simulated exhaust pipe makes for an exhilarating and unforgettable motorcycle ride for your child's biking adventures.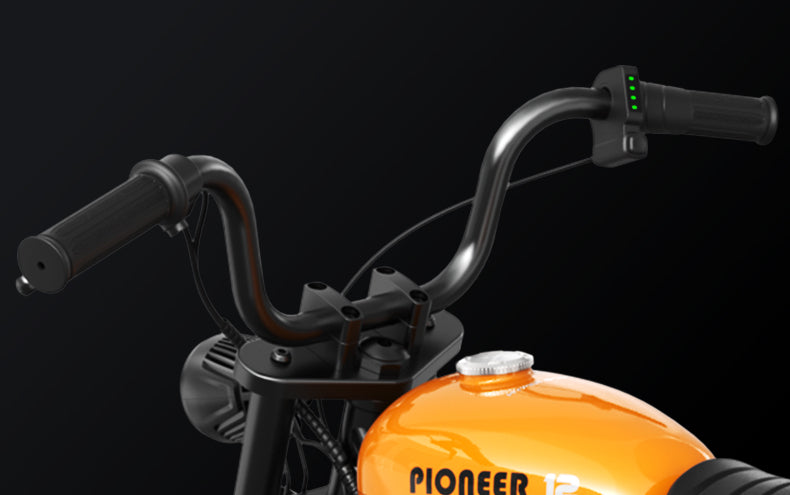 Adjustable Handlebar Heights
The height of the handlebar can be adjusted flexibly to accommodate children of varying heights and arm lengths, ensuring a perfect fit for every little adventurer.
Safety Is the Top Priority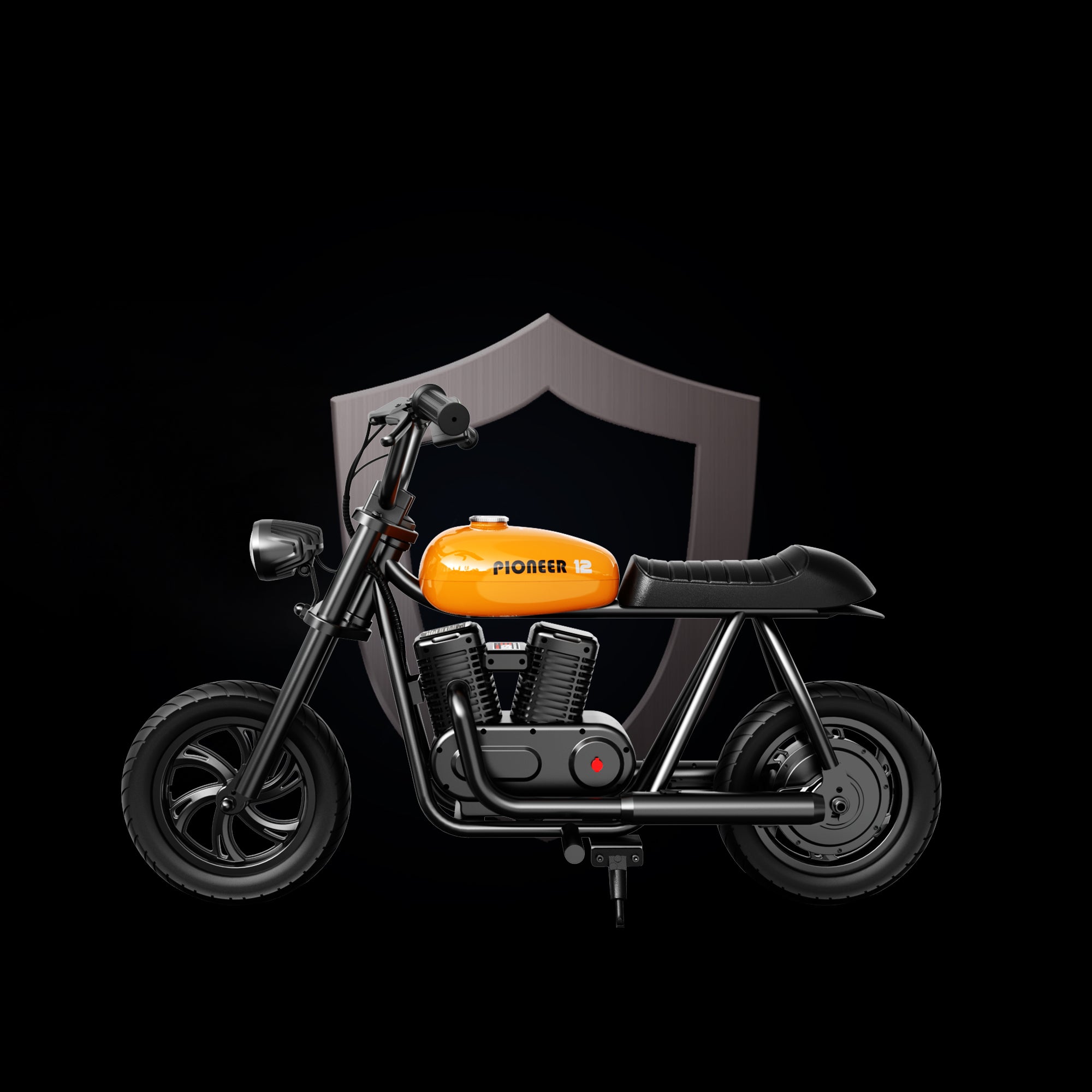 Anti-skid & Wear-Resistant Tires
Auxiliary Wheel Compatible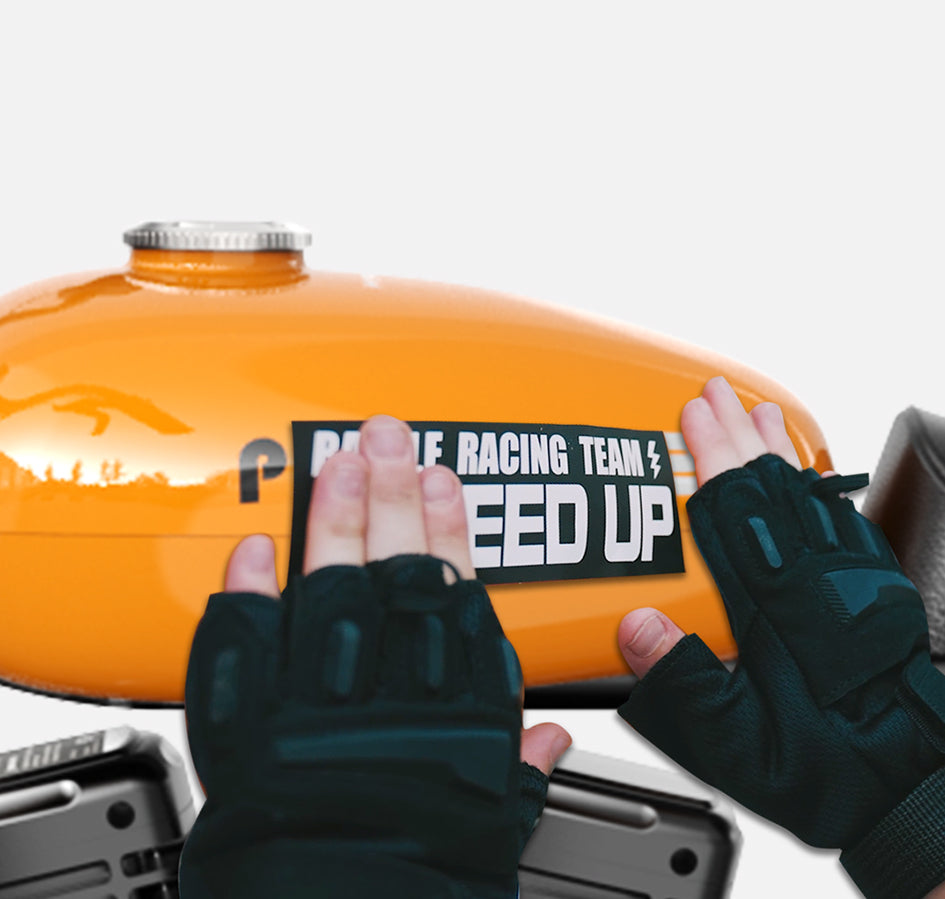 Embrace the Fun of Personalization
Ignite your child's imagination with the customizable Pioneer 12. It lets your kids freely design the frame, simulated fuel tank and exhaust pipe. Unleash their creativity and embark on an unforgettable adventure. Get ready to ride and create lasting memories.
Motor
Powered by a 160W motor, your child can experience an exhilarating and safe ride.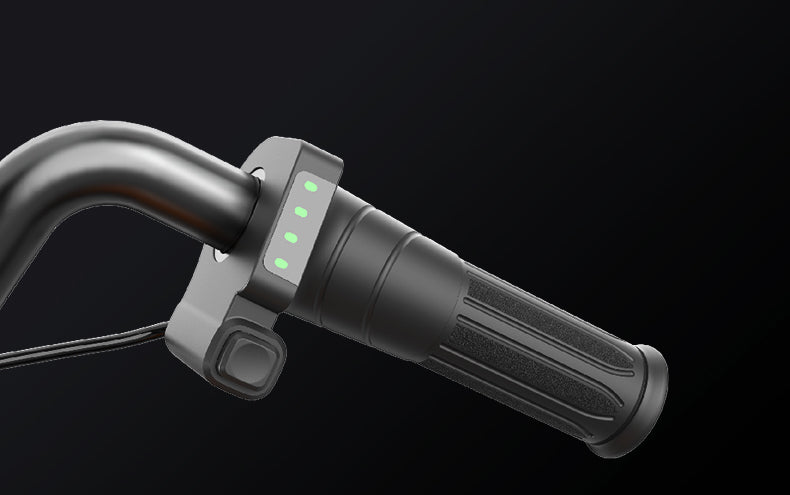 3 Speed Levels
The Pioneer 12 offers 3 speed levels, allowing your child to experience the excitement of adjustable speeds for maximum enjoyment.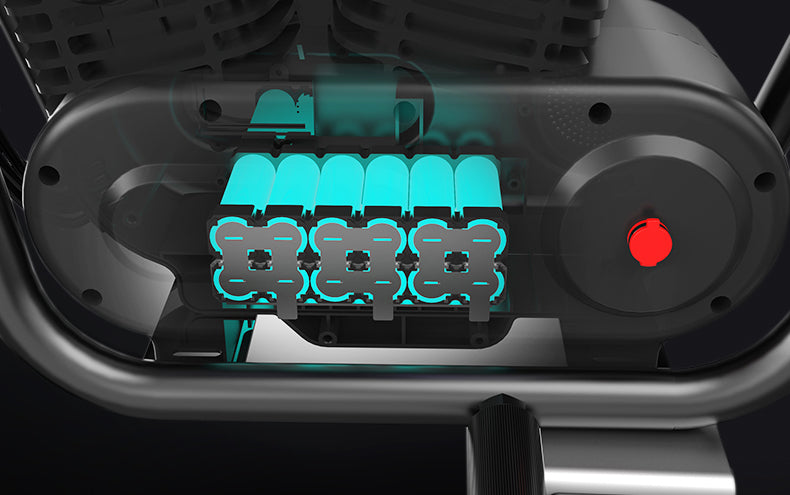 Large Battery Capacity
With a 21.9V 5.2Ah lithium-ion battery pack, your child can enjoy hours of uninterrupted excitement and adventure.
Enjoyable Indoor and Outdoor Rides
With durable pneumatic rubber tires, the Pioneer 12 runs smoothly on various surfaces, such as wood floors and grass, providing a delightful riding experience for children, both indoors and outdoors.
Intricate Design Makes Your Kids Feel Safer
Rev up Your Child's Adventure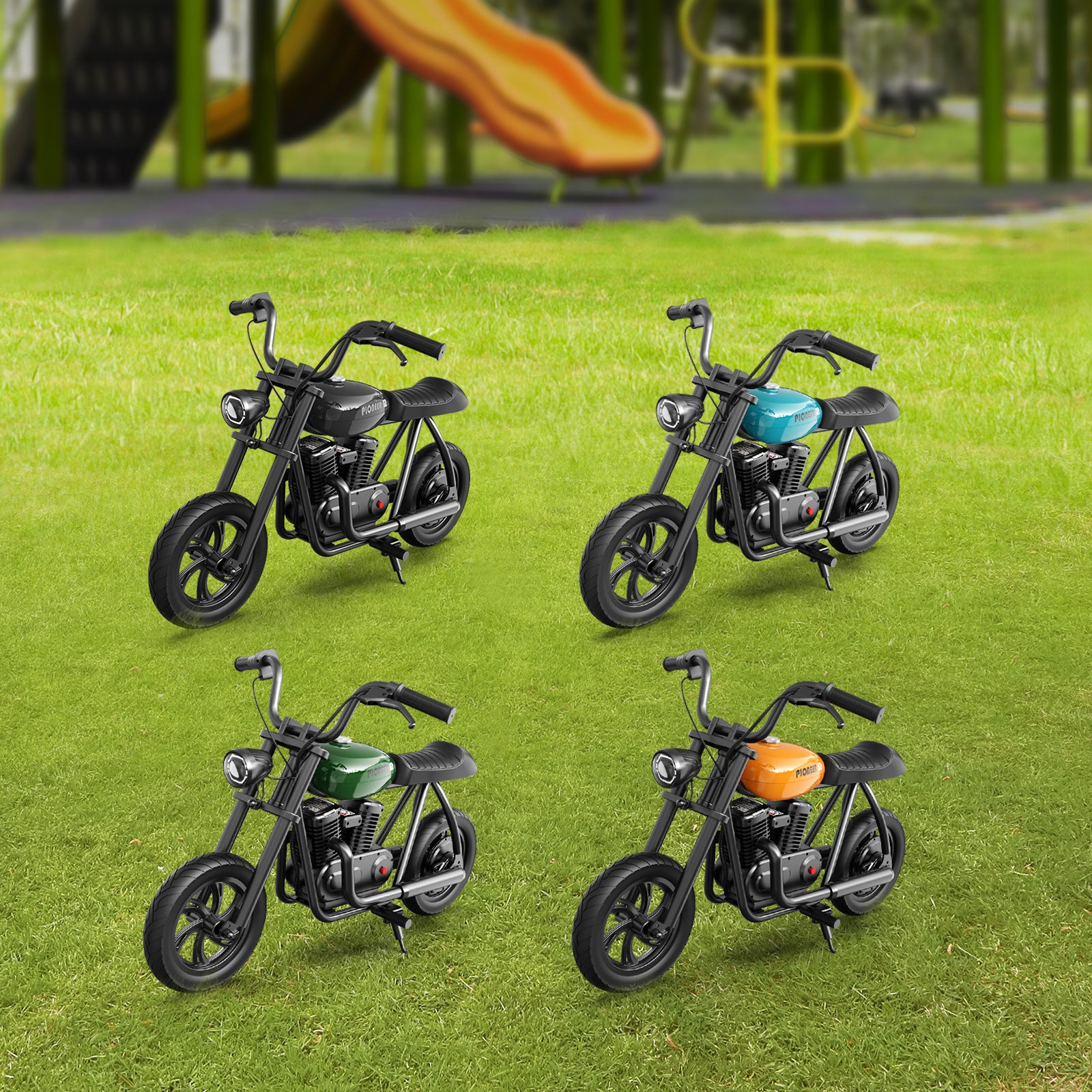 The HYPER GOGO Motorcycles for Thrilling Fun!
Product Specification
Please note that the top range is achieved with a load of 60 kg, riding at 16 km/h on flat roads without strong winds at 26°C.
Basic Specification
Max Load: 65 kg
Uphill: 10° (17.6%)
Max Speed: 16 km/h (10 mph)
Max Range: 12 km
Speed Levels: 8/12/16 km/h (5/8/10 mph)
Waterproof Level: IP4
Material of Frame: Steel
Braking System: Rear Hub Brake
Recommended Rider Heights: 90-160 cm (2'11.5"-5'3")
Motor
Rated Power & Voltage: 160W, 24V
Max Output Torque: 11 N.m
Battery
Capacity: 5.2Ah
Voltage: 21.9V
Charging Time: 4h
Power Capacity: 113.88Wh
Tire
Size: 12"x3"
Type: Pneumatic Rubber Tires
Tire Pressure: 100-200 KPa
Weight & Size
Product Weight: 15 kg
Package Weight: 17.96 kg
Product Size: 1150.7x498.7x724.5 mm
Package Size (L x W x H): 1075x245x525 mm
Package List
1 x Semi-assembled Motorcycle for Kids
1 x User Manual
1 x Charger
1 x Front Wheel
2 x Pedal
1 x Storage Box
1 x Kickstand
4 x Handlebar Clamp
1 x Axle with Nuts for Front Wheel
2 x Bolt for Kickstand
4 x Bolt for Handlebar
1 x 4mm Allen Key
1 x 6mm Allen Key
2 x 16mm Wrench